NEDRA NEWS (April 30, 2011) - Our first Capitol Amps race at Capitol Raceway was a complete success with five EVs racing.
Three EVs drove under their own electric power to race at the event including two Chevy Volts and the Toyota RAV-4. Two other EVs were running big 11-inch Warp Motors and Zilla controllers.
We shared the track with the 442 Club, Pontiac Club and Nostalgia racers, but despite the wait in the staging lanes which ran up to an hour, two of the vehicles were able to get 4 runs each for the day.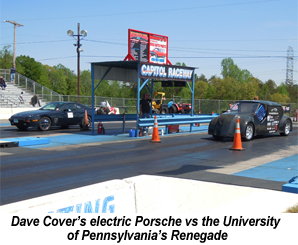 The crew from the University of Pennsylvania brought their Renegade for it's first run down the dragstrip. Dave Cover was there with his all electric Porsche 944. Also racing were two Chevy Volts and a RAV-4 EV. Trophies were awarded for first, second and third for the Conversion EVs and first and second for the Chevy Volts.
The Renegade Team ran a straight race with no mechanical issues. This was the first time the team members had raced at a drag strip. With the car's twin 11-inch Warp motors and Zilla 2K controller, the Renegade has a potential for some 10 to 12 second runs once they go back to the lab and tweak the car.

In what could be a first on an NHRA drag strip, two Chevy Volts raced each other in two heats, each breaking into the 16s!
Dave ran his best times with his Porsche to date. He added more NiCd cells to his pack and new tires.
See the photos and results below.
Capitol Amps is sanctioned by the National Electric Drag Racing Association (NEDRA) and organized by the Electric Vehicle Association of Washington DC. Although this was our first event at Capitol Raceway, NEDRA has sanctioned dozens of events for 13 years across the US including Maryland's other electric drag racing event, the Power of DC, in Hagerstown, Maryland scheduled for June 11-12, 2011.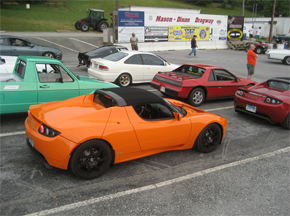 Above is a photo of our sister event, the Power of DC at Mason-Dixon Dragway, now running in its 11th year! Check out all those EVs staging to race.
For more information on racing and future sponsorship opportunities contact Chip Gribben at pr@nedra.com or 301-490-0657.